Serving Size for 8 Healthy Nuts
About:
Nuts are an excellent source of quality plant protein and heart-healthy monounsaturated fatty acids and provide a wide array of vitamins, minerals and phytonutrients.
Nuts are also packed with calories with as much as 80 percent of it being fat. So, instead of eating foods with unhealthy saturated fats, try substituting a handful of nuts or a tablespoon or two of a nut spread.
The standard size for a single serving of nuts is one ounce which is approximately 1/4 cup for most nuts. The list below is a comparison of what an ounce or standard serving size for 8 healthy nuts offers:
Tips/Steps:
Almonds: One ounce of almonds or 23 almonds has 162 calories, 14 grams fat, 3 grams fiber and 6 grams protein. They are an excellent source of the antioxidant vitamin E, contain numerous flavonoids, and are highest in calcium and fiber, which helps you feel full longer. They are also high in protein and magnesium.
Pistachios: An ounce of pistachios or 49 pieces has about 155 calories, 13 grams fat, 3 grams fiber and 6 grams protein. It is also ranked as the nut with the most antioxidants and is among the highest in potassium and vitamins A and B6. Pistachios are also high in zeaxanthin, a carotenoid that can prevent macular degeneration.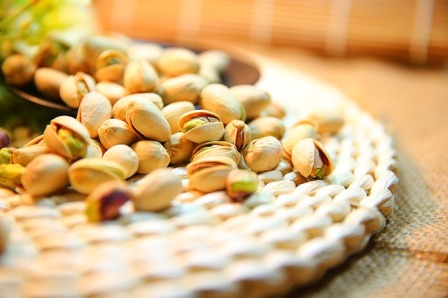 Walnuts: One ounce or 14 halves provides 185 calories, 18 grams fat, 2 grams fiber and 4 grams protein.  Possibly the best nut for heart health, walnuts are packed with heart-healthy Omega-3 fats and contain phytonutrients that have been shown to help fight cancer.
Brazil Nuts:  One ounce or 6 nuts provides 186 calories, 19 grams fat, 2 grams fiber and 4 grams protein.  One Brazil nut provides more than 100 percent of your daily selenium requirement. Too much selenium can be a big problem though, so limit your intake. Brazil nuts are also high in minerals including zinc and magnesium.
Cashews: One ounce or 16-18 nuts provide 160 calories, 13 grams fat, 1 gram fiber and 4 grams protein. This nut has the least amount of fat and is high in magnesium, copper and iron.
Peanuts: One ounce of dry-roasted peanuts or 28 peanuts contains 170 calories, 14 grams fat, 2 grams fiber and 7 grams protein. Technically, peanuts are a legume, offering different amino acids than nuts.  Peanuts provide the highest quantity of protein of all the nuts listed. Peanuts are an excellent source of the B vitamin niacin, and of folate, vitamin E, magnesium and phosphorus.
Pecans and Macadamia nuts: One ounce of pecans or 20 pecans contains 215 calories, 21 grams fat, 2 grams fiber and 3 grams protein.
The macadamia nut, takes 10 to 12 nuts to make a one ounce serving. They provide 200 calories, 2 g of protein, 22 g of total fat and 45 percent of the daily recommended intake of manganese.
High fat content gives these nuts a creamy, buttery taste as well as the highest calorie count. They are a lot higher in unhealthy saturated fat and have the least amount of protein. You can eat these nuts on occasion, but there are healthier alternatives for every day.