Healthy Dining Out Tips by Cuisine Type
About:
You can eat healthfully when dining out or bringing in food, if you know how. The following list includes healthy food choices (lower in calories and fat) and terms to look for when making your selection at restaurants offering different ethnic cuisines.
These tips have been sourced from heart.org and elsewhere.
Tips/Steps:
Cajun - Cajun cuisine is spicy fare. Many Cajun dishes are high in saturated fat, trans fat, cholesterol, sodium or all three, but almost all of them can be made with more healthful ingredients.
Choose more often:
Boiled crawfish or shrimp
Creole and jambalaya dishes
Boiled or grilled seafood
Turkey or roast beef Po ' Boy sandwiches
White rice
Red beans and rice without sausage
Chinese  - Chinese food is a popular and healthy ethnic cuisine, but it can be high in sodium. Main dish portions are often quite large, so try ordering fewer entrees than you have dinner companions. Then divide and devour!
Choose more often:
Steamed
Jum (poached)
Chu (boiled)
Kow (roasted)
Shu (barbecued)
Hoison sauce with assorted Chinese vegetables: broccoli, mushrooms, onion, cabbage, snow peas, scallions, bamboo shoots, water chestnuts, asparagus
Oyster sauce (made from seafood)
Lightly stir-fried in mild sauce
Cooked in light wine sauce
Hot and spicy tomato sauce
Sweet and sour sauce
Hot mustard sauce
Reduced sodium soy sauce
Dishes without MSG added
Garnished with spinach or broccoli
Fresh fish filets, shrimp, scallops
Chicken, without skin
Lean beef
Bean curd (tofu)
Moo shu vegetables, chicken, or shrimp
Steamed rice
Lychee fruit
French - French food used to mean high in fat, with butter as a staple ingredient. "Nouvelle cuisine" has introduced a new, lighter way of cooking with French flair.
Choose more often:
Dinner salad with vinegar or lemon juice dressing (or other reduced fat dressing)
 Crusty bread without butter
 Fresh fish, shrimp, scallops, steamed mussels (without sauces)
 Chicken breast, without skin
 Lighter nouvelle cuisine
 Rice and noodles without cream or added butter or other fat
 Bordelaise or other wine-based sauce
 Fresh fruit for dessert
Greek - Many Greek dishes are prepared with olive oil, which is one of the better choices of oil but can add lots of calories. Some favorite ingredients like feta cheese and olives are high in sodium.
Choose more from:
Appetizers with rice or eggplant
Dolmas (rice mixture wrapped in grape leaves)
Tzatziki (yogurt and cucumber appetizer)
Roast lamb; shish kabob; couscous or bulgur wheat with vegetables or chicken
Chicken pita sandwich
Plaki (fish cooked in tomatoes, onions and garlic)
Fruit
Indian - Indian food has its good and bad points. It's good because it includes lots of grains high in fiber and less animal protein. Legumes and vegetables are also commonly used — another plus. The problem is that much of the food is prepared with ghee (clarified butter) or is fried or sautéed. Coconut oil and milk, which are high in saturated fat, are also used often.
Choose more from:
Tikka (pan roasted)
Cooked with, or marinated in yogurt
Cooked with green vegetables, onions, tomatoes,
peppers, and mushrooms
With spinach (saag)
Baked leavened bread
Masala
Tandoori
Paneer
Cooked with curry, marinated in spices
Lentils, chickpeas (garbanzo beans)
Garnished with dried fruits
Chickpeas (garbanzo) and potatoes
Basmati rice (pullao)
Mattar (peas)
Chicken or shrimp kebab
Italian - To most people, Italian food means pasta. Pasta is low in fat, and whole-grain pasta is a good choice when available. It's the full-fat cheeses and cream sauces that add all the saturated fat and calories. So ask for fettuccini with marinara sauce.
Choose more from:
Lightly sautéed with onions
Shallots
Peppers and mushrooms
Artichoke hearts
Sun-dried tomatoes
Red sauces—spicy marinara sauce (arrabiata),
marinara sauce, or cacciatore
Light red sauce or light red or white wine sauce
Light mushroom sauce
Red clam sauce
Primavera (no cream sauce)
Lemon sauce
Capers
Herbs and spices—garlic and oregano
Crushed tomatoes and spices
Florentine (spinach)
Grilled (often fish or vegetables)
Piccata (lemon)
Manzanne (eggplant)
Italian ices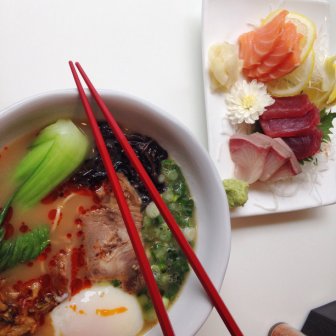 Japanese - If anyone has perfected low-fat cuisine, it's the Japanese. Japanese cuisine highlights rice and vegetables and relies on food preparation methods that require little or no fat or oil. Because of this, most of the fat you eat comes directly from the food you choose. Typically, portions are smaller too.
Choose more from:
House salad with fresh ginger and cellophane
(clear rice) noodles
Rice
Nabemono
Chicken, fish, or
shrimp teriyaki, broiled in sauce
Soba noodles, often used in soups
Yakimono (broiled)
Tofu or bean curd
Grilled vegetables
Yosenabe (seafood and vegetables in broth); shabu-shabu (sliced beef and noodles cooked and served at the table with dipping sauce); sukiyaki (beef and vegetables cooked in sauce) or su udon (hot noodles and broth)
Sumashi wan (clear soup with tofu and shrimp)
Middle Eastern - A lot of Middle Eastern dishes are prepared with olive oil, which is one of the better choices of oil but can add lots of calories. Some favorite ingredients like feta cheese and olives are high in sodium.
Choose more from:
Lemon dressing, lemon juice
Blended or seasoned with Middle Eastern spices
Herbs and spices
Mashed chickpeas
Fava beans
Smoked eggplant
With tomatoes, onions, green peppers, and cucumbers
Spiced ground meat
Special garlic sauce
Basted with tomato sauce
Garlic
Chopped parsley and/or onion
Couscous (grain)
Rice or bulgur (cracked wheat)
Stuffed with rice and imported spices
Grilled on a skewer
Marinated and barbecued
Baked
Charbroiled or charcoal broiled
Fresh fruit
Mexican - A lot of Mexican food is fried with lard and topped with cheese, so it's loaded with saturated fat. It can be high in sodium, too. But when you know what to choose, Mexican food can be fresh, tasty and more healthful.
Choose more from:
Shredded spicy chicken
Rice and black beans
Rice
Ceviche (fish marinated in lime juice and mixed with spices)
Served with salsa (hot red tomato sauce)
Served with salsa verde (green chili sauce)
Covered with enchilada sauce
Topped with shredded lettuce, diced tomatoes,
and onions
Served with or wrapped in a corn or wheat flour
(soft) tortilla
Grilled
Marinated
Picante sauce
Simmered with chili vegetarian tomato sauce
Thai - Thai food is a wonderful blend of fresh and spicy. It tends to be light on fats, meats and sauces and relies more on vegetables, noodles and rice.
Choose more from:
Barbecued, sautéed, broiled, boiled, steamed,
braised, marinated
Charbroiled
Basil sauce, basil, or sweet basil leaves
Lime sauce or lime juice
Chili sauce or crushed dried chili flakes
Thai spices
Served in hollowed-out pineapple
Fish sauce
Hot sauce
Napa, bamboo shoots, black mushrooms, ginger,
garlic
Bed of mixed vegetables
Scallions, onions
Stir-fried dishes
Fresh spring rolls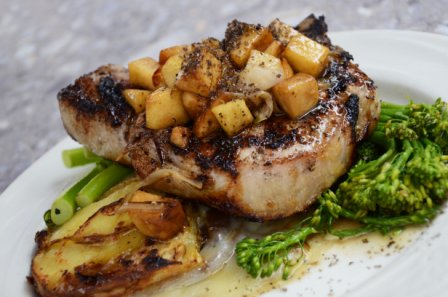 Steak Houses
Choose more from:
Lean broiled beef (no more than 6 ounces)—
London broil, filet mignon, round and
flank steaks
Baked potato without added butter, margarine,
or sour cream. Try low-fat yogurt or mustard.
Green salad with reduced
fat dressing
Steamed vegetables without
added butter or margarine. Try lemon juice
and herbs.
Seafood dishes (usually indicated as "surf" on
menus)
Angel food cake or sherbet
Vietnamese - Vietnamese food is one of the world's oldest and most exquisite cuisines. Its subtle flavors and textures blend the Far East with French cooking for a marvelous dining experience.
Choose more from:
Canh chua tom (spicy and sour shrimp soup)
Goi cuon (fresh spring roll)
Bo xa lui nuong (grilled beef with lemon grass in rice paper with vegetables)
Ca hap (steamed whole fish)
Ca kho to (fish steamed with caramel sauce in clay pot)
Lychee (fruit in syrup)